Do you stairs look like they've been used and abused for years?  Are they worn or broken or just plain not what you want?  Years of wear and tear, even with moderate use, will damage your stairs.  As one of the most trafficked areas of your home, stairs can develop creaks, loose areas, wear spots and depressions that make them both unsightly and unsafe.  Handrails are also vulnerable to age, wear, and children who like to hang and slide on them.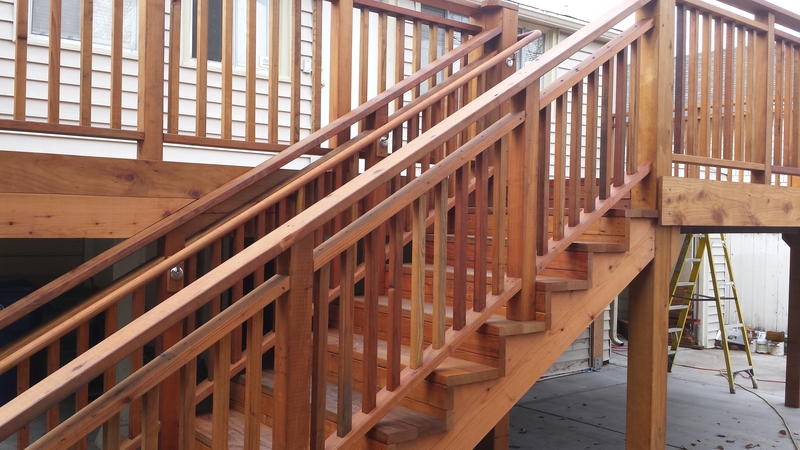 Stairs can make or break the look of any home. They can be an elegant or fun part of your home and can take many looks and styles. They can also lead to injuries to you, your family or your guests.  According to insurance companies, damaged stairs or handrails lead to a surprisingly large number of injuries referred to as "slip and falls" and could result in serious injuries.
With our stair repair service, we can provide quality work that will replace, rebuild or repair some or all of your stairs.  We will meet with you to determine the extent of the work you done, from simply fixing a step or two, to a complete remodel to conform to your choice.  We will also check both the state and local building codes to ensure whatever you want done, it is up to the most current safety standards applicable. You can rest easy knowing you have the stairs you want and the safety you need for you and your family.
We have a wide variety of stair types and styles, and use on the best quality woods and materials to repair or restore your stairs to their original beauty. We will work with you or your builder to repair or replace your stairs.
Don't have any stairs but would like one?  We can also build and install stairs for those of you wanting to add a staircase to your home.  Whether you would like a straight or curved stairs, we can help you add the elegance and strength a staircase conveys to your home.
Contact us today for a quote or more information!