Brad T. Jones Construction is highly experienced and dedicated to bringing our clients exceptional quality and craftsmanship to each kitchen remodeling project. Our services include transforming your kitchen into the centerpiece of your home, where more than just cooking occurs. It is where your family comes together to share, eat, and enjoy being with each other.
Remodeling a kitchen is considered one of the smartest investments you can make to your home as well. It can also save you significant amounts of money in the form of new energy efficient appliances, fixtures new insulating windows, and radiant insulated flooring.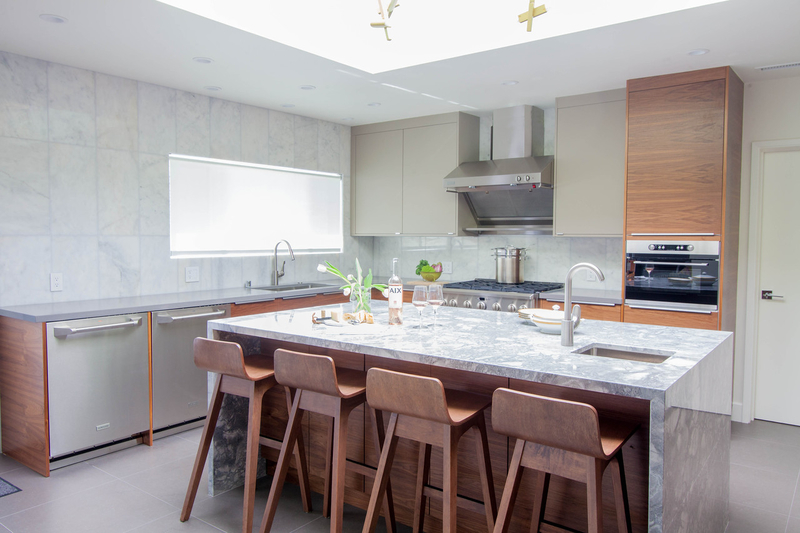 Kitchen remodeling ideas can range from minor improvements to extensive makeovers. We can make your kitchen into a modern highly efficient and functional space to handle the eating and gathering needs of a large family, or create a more classic and elegant looking kitchen. Our kitchen remodeling crew can gut the entire kitchen for you so you can have a complete custom redesign, which we will take you through step by step.
When deciding on remodeling ideas, we can help you decide on different options that compliments your unique style and taste. Whether you want a kitchen design that includes stone materials like granite, quarts, or marble, we can work with you to create the perfect design layout for you. We work with a wide variety of suppliers in order to keep the cost of a kitchen remodel down.
We can handle a wide variety of custom looks for your kitchen, with particular attention to cabinets and sinks.
Cabinets, particularly wood, convey warmth and richness as well as functionality. Some of the more popular woods for cabinets include walnut, cherry, maple and oak. The type of wood will compliment the style you choose, depending on the style, whether simple and classic or a more modern look.
Sinks come in many varieties, from simple single to the fancier double drop with a garbage disposal, you choose anything from a modern stainless steel sink to a classic and elegant cast iron, sinks no longer have to be drab holes in your kitchen counter tops, but rather, can reflect a wide variety of choices and options.
Call Us Today!
Hiring the right kitchen remodeling contractor is absolutely critical to making your kitchen renovation dream come true. Let Brad T. Jones Construction be your Alameda kitchen remodeling contractor.