Brad T Jones Construction is pleased to offer bathroom remodeling contractor services in Alameda County and surrounding communities. Remodeling a bathroom or adding an additional bath to your home not only makes your home look more modern, but adds value to your home as well. Our team will work to not only meet your needs, but to exceed your expectations.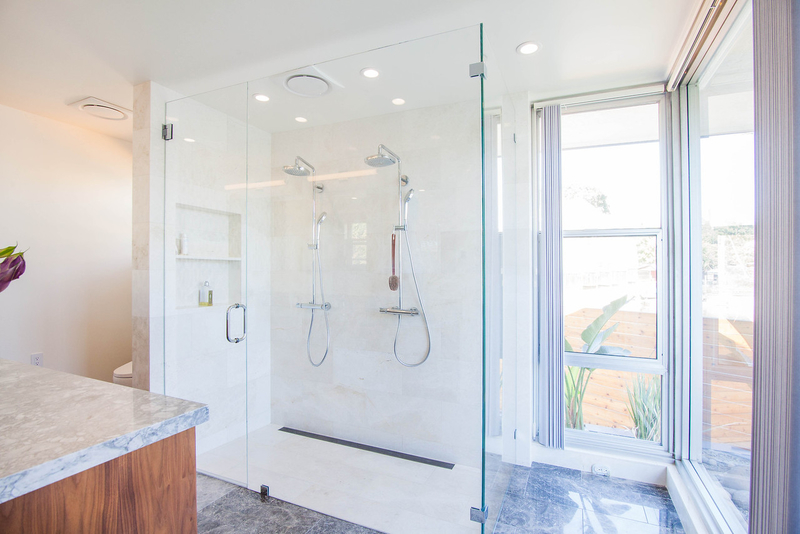 We believe that a remodeling should fit organically within the home, and not stand out as a remodel. We'll take time to listen to your needs, and consider traffic patterns, design and your lifestyle to determine the best way to remodel your bathroom. Whether you need to refit and improve an existing bathroom, or redesign and add on to the room, we'll consider the mechanics of your remodel to do the best work possible.
Accessibility Bathroom Remodeling (ADA)
Disabled? Have medical needs that require custom modification? We have extensive experience with remodeling bathrooms for wheelchair or walker accessibility. Many older homes are not equipped for accessibility, and require a design layout that makes it more accessible. We are one of the most experienced bathroom remodeling contractor services in Alameda County.
In order for a bathroom to be wheelchair or walker accessible, it must be sized and designed so that one can enter and move around freely. Showers and bathtubs are not generally designed to be accessible, and need to be refitted.  Brad T Jones Construction specializes in curbless, wheelchair accessible showers. We offer installation of a range of bathroom accessories, grab bars, tub seats, railings and shower units. Whether you currently have need of a wheelchair accessible bathroom, or are incorporating your future needs into your current remodel, we can help.
Remodel for Style
Simple replacements within a bathroom, such as tiles, sinks, vanity, bath tubs and fixtures can give your entire home a more modern and up to date look and feel. Whether your style is elegant, classic, modern or you wish for a spa environment, we can help design and build the bathroom you desire. Ask to see our portfolio of bathroom remodeling jobs. Chances are, we may worked for your neighbor.
We feel certain that a visit with Brad T Jones Construction will leave you feeling excited instead of apprehensive about your bathroom remodeling.
Schedule a meeting to discuss your needs, and let us put our experience to work for you!